Complete Story

05/24/2017
2017-2018 OSOMS Officers Elected
On April 29, 2017 the Ohio Society of Oral and Maxillofacial Surgeons installed new officers during the annual business meeting held at Nationwide Hotel and Conference Center in Columbus.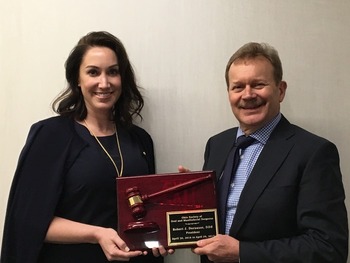 Incoming President Kelly Kennedy presents
2016-2017 President Robert Dornauer with a plaque
in appreciation for his tenure as the OSOMS President.
Job well done!
2017-2018 Officers:
President: Kelly Kennedy, DDS - Columbus
President-Elect: Keith M. Schneider, DMD - University Heights
Vice President: Monte Masonbrink, DDS, MS - Columbus
Treasurer: David Smeltzer, DDS - Columbus
Immediate Past President: Robert Dornauer, MS, DDS - Tiffin
Delegates:
Bradley Gregory, DMD - Findlay
Faisal Quereshy, DDS, MD - Cleveland
Greg Ness, DDS - Columbus
Alternate Delegates:
Michael Lee, DDS - Cincinnati
Hany Emam, DDS, MS - Columbus
Deepak Krishnan,DDS - Cincinnati